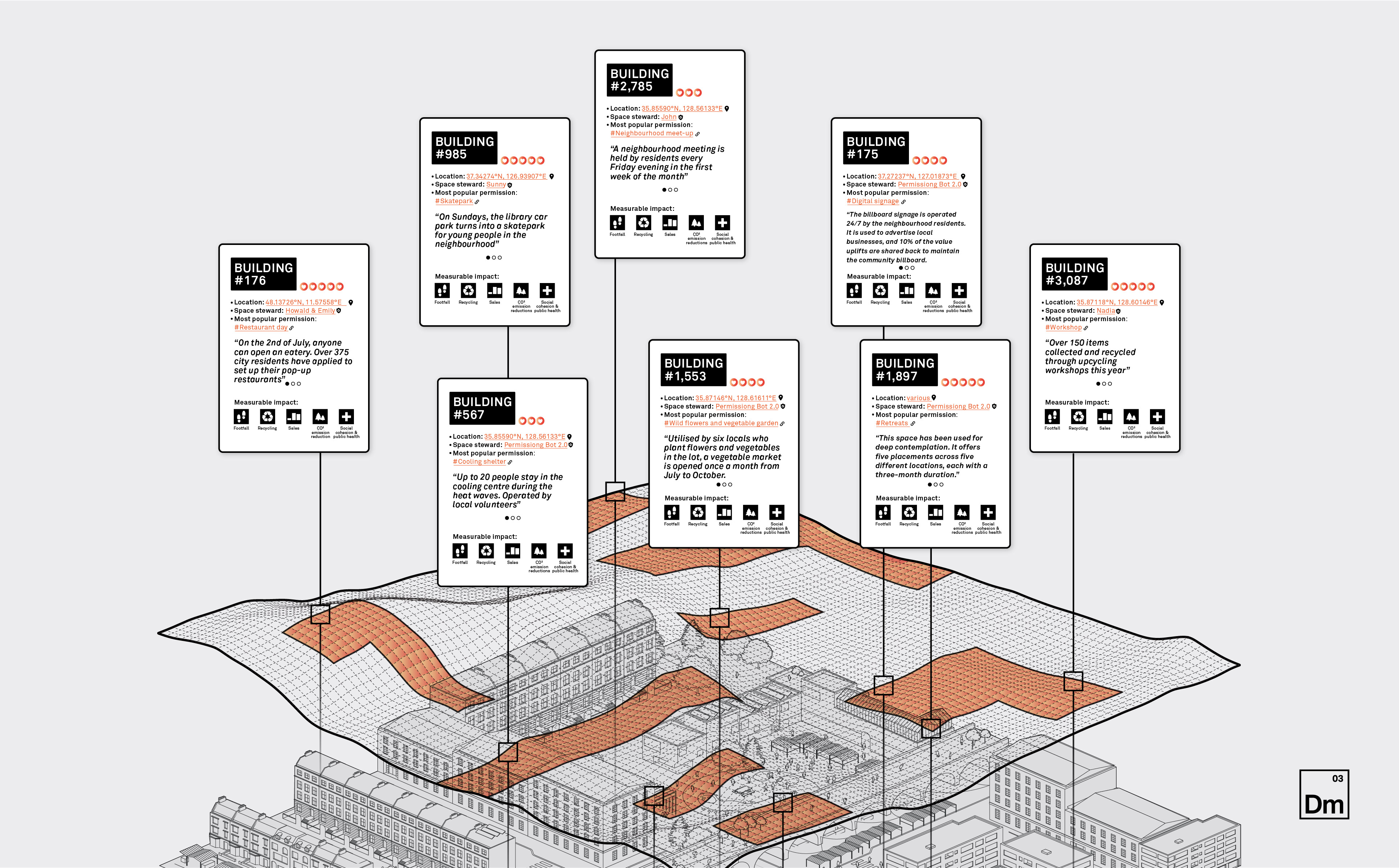 Re:Permissioning the City is a community-led governance and permissions system which interrogates how we use, manage and share urban space. It takes as a starting point the numerous vacant and underutilised spaces that opened up due to the pandemic and larger demographic and industrial restructuring, with the intention to aggregate and unlock them for civic uses.
Core to this concept is the light-touch, flexible, and multi-use planning approach by the local government that permits community-driven, creative appropriation of space. Enabling this new capacity of the city is a new governance model operated through a digital system that facilitates autonomous decision-making around when and how a space can be used, for what and by whom.
Re:Permissioning the City project began under the Bloomberg Mayors Challenge 2021, in partnership with Daegu Metropolitan City in South Korea. With the upcoming pilot in Daegu, we are concurrently looking for new partners around the world to develop and test this further.
---
Read more︎











All Projects ︎

We're a distributed team with presence around the world.

Netherlands
Dark Matter Laboratories B.V.
Pakhuis de Zwijger
Piet Heinkade 181K
1019 HC Amsterdam

KvK number: 75174405

United Kingdom
Dark Matter Laboratories Limited
217 Mare Street
London, E8 3QE

Company number: 13294211

Canada
Laboratoires de Matière sombre / Dark Matter LabsOrganisation à but non-lucratif canadien / Canadian not-for-profit
1755 Rue Saint-Patrick app C-403
Montréal (Québec), H3K 3G9
Numéro de l'organisation / Corporation number: 1196376-7

South Korea
주식회사 다크매터랩스코리아 / Dark Matter Labs Korea Co., Ltd
#301, Pyeongtaek 5-ro 20beon-gil 8,
Pyeongtaek-si, Gyeonggi-do, 17902

경기도 평택시 평택5로 20번길 8, 301호, 우편번호 17902
사업자등록증: 808-88-01717

Sweden
Mörk Materia Laboratoriet AB / Dark Matter Labs Sweden
Östergatan 1
211 25 Malmö
Registration number: 559305-1047